Hi bloggers well autumn the autumn colours have nearly gone it's been cold and apparently snow is on the way. I'm wondering if you are feeling the real cold of winter yet.
It was World kindness day and hopefully it will continue longer than a day. There are always tremendous acts of kindness being accomplished but they rarely receive the news coverage they deserve.
A case of this was when a young boy Harry found a bag of chocolates and flowers. They had been placed there by Sarah and Chris Urey. Their baby Willow was sadly born dead, the couple had been devastated but to commemorate her third birthday they
the couple placed bags of chocolates and flowers, labeled with stickers, around their village in memory of their daughter.
Harry, 14, found one of these acts of kindness and showed his teacher, Miss Taylor. This resulted in his entire class writing supportive messages to the couple. This brought the couple a great deal of happiness.
Another touching story a 17 year old boy at a school in Lancashire had some very cool trainers called vans. Some students in his class with special needs admired the shoes, so Roderick got a part time job saved up and bought the same style of trainers and gave them as gifts.
"Unexpected kindness is the most powerful, least costly and the most underrated agent of human change." Bob Kerry
Well bloggers wishing you a good week over and out from London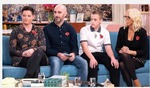 Sent from my iPad
-->