Hi bloggers hope you've had a good week and the temperature is reducing for you.
In England there's been a big controversy ( of course battles about Brexit continue) about the way cathedrals have been used this summer. Two cathedrals have installed installations; in Rochester cathedral there is a nine hole mini golf course with bridges and in Norwich cathedral there is a helter skelter. It is suggested by some that it will be new ways of attracting people into the cathedrals, other people deem the decision to be ill judged and not conducive to Christian worship. The idea behind the helter skelter was to enable people to have fun but at the same time to encourage people to admire the ceiling. The nine hole golf course is to encourage families to enter the cathedral learn about faith, and building both emotional and physical bridges, hence the bridges.
People opposed to the idea say that churches are meant for peaceful contemplation not for experiences you find at the fun fair.
I don't really have an opinion as I haven't seen them. I do know if I enter a church I like it to be peaceful. The installations have definitely kept the journalists busy. I can't imagine installations in a zen temple or mosque.
Bloggers take care over and out London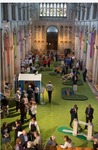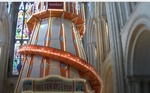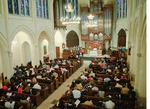 This photo is of a regular service in a cathedral.
Sent from my iPad