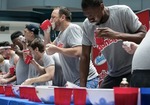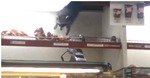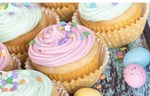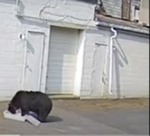 Hello to you all I'm not in London but by the sea in Dorset. Today the weather is absolutely lovely warm, sunny, not humid or windy. Rare days.
I have told you before about my love of donuts. When I was a child donuts were covered in sugar and a blob of jam in the middle. The jam was always in one place so if you were sharing you had to really hope that the jam was in the middle.
Donuts have made a comeback and are ludicrously expensive costing about £4-5 each. I'm especially fond of donuts filled with creme patisserie. However I was surprised to learn that a raccoon loved donuts too, so much so that he broke into a bakery and helped himself. Makes my anecdotes about the squirrel seem tame. He was caught on video taking his time making a favourite selection.
This week I also read about a brown bear who strolled into a bakery in America. He stole a cupcake and enjoyed it so much that he stole a box of sixty and ate the lot.
I'm not the only one who loves donuts.
A man called Joey Chestnut won the record for the amount of donuts he consumed in a competition. Two hundred and seventy five!!
I hope I haven't tempted you to rush out to dunkin donuts.
Take care over and out London