-->
After blogging about the closures of pubs an article caught my eye that was alcohol related. On the south coast of England in Devon and Dorset disoriented and confused sea gulls have been found reeking of alcohol.
Officials from an RSPCA centre said the birds struggled to stand, but seemed to recover after sleeping it off. Calls
to rescue drunk gulls started in mid-June. Since then, many birds with the same symptoms have been treated.
"At first the birds look like they have botulism but then, after vomiting, most seem to recover," said RSPCA officer Jo Daniel. "
But the birds absolutely stink of alcohol when we collect them so now our vans smell like pubs." It seems the birds have been visiting local breweries rubbish bins. The RSPCA is urging local breweries and distilleries to check waste is secure and that wildlife cannot get to it.
The pig in the photo is called Francis Bacon and he is a very naughty pig. Last March he was banned from the Conquering Hero pub in West Norwood for stealing pints and head-butting patrons.
The Vietnamese micro pig's owners, landlords Vicky and Ian Taylor-Ross, noticed she was finishing off the dregs of customers' glasses and raiding the crisp and nut stocks. The Vietnamese pot-belly would head butt customers and in return the customers would give the pig a sip of beer
Animals stealing and consuming alcohol is not only an English phenomenon in Norway a family of bears broke into a holiday cabin, and drunk over a hundred cans of lager. The bears got into the cabin through a window and proceeded to drink the family's beer supply, eat all the food in the kitchen – including chocolate, honey and jam – and then smash up the furniture. They bit into the cans and drank the beer, the bears were not good guests as after consuming the goods they trashed the cottage. Perhaps alcohol doesn't suit animals.
In England when you go to a pub and have a drink it is quite common to say a toast there are a number of ways to do this formally and informally.
Cheers and Here's to your health are the most usual. More idiomatic ways of toasting are;
Here's mud in your eye,
Down the hatch and
Bottom's up!
Bloggers wishing you a really good week over and out London.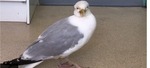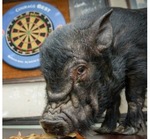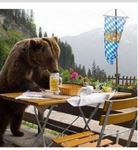 Sent from my iPad
-->