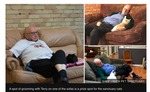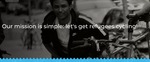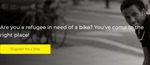 Hi bloggers well next week it will be October time really is racing by, Autumn is in the air. It's a beautiful season and the changing colours are wonderful to see. In London we're lucky to have many parks and open spaces so we're able to see the changes in the natural world without having to travel too far.
Our news is still dominated by Brexit negotiations so many experts giving so many different points of view it's hard to listen to. So when these two stories were in the news it was a joy to read about positive people.
The older man, Terry Laureen a retired teacher has become a regular volunteer at the Safe Haven Pet Sanctuary in Green Bay over the last year. The Sanctuary is set up like a cat cafe,with sprawling arm chairs and the bird channel on loop on television specialises in looking after, rehabilitating and rehoming cats with disabilities and special care needs who would be at risk of being put down elsewhere. Terry, goes to the Sanctuary almost daily with his own special brush to groom the cats. He is a cat-lover who travels a lot so he is unable to get one of his own. The cats are delighted to see him, after grooming the cats he takes a catnap with them. All needs being met.
The younger man Jem Stein set up The Bike Project after seeing how much his brother's old bike helped Adam, a Darfuri refugee he mentored at university. He's on a mission to get every refugee in London on a bike!
Having fled persecution and atrocity in their country of origin, most refugees arrive in London with absolutely nothing. A bike helps refugees and asylum-seekers access food banks, legal advice, healthcare, education and much more. The charity doesn't only provide a bike, it also teaches people road safety, gives people safety gear. The staff and volunteers fix bikes and some are sold to the public, the money is put back into the business, to get more bikes for refugees. Many of the refugees when they are settled return to the project to volunteer.
Two inspiring stories, bloggers have a good week over and out London.