Hi bloggers the world is such a strange place at the moment, so it's important to remember what really matters the two people I'm going to write about have love in their hearts it really is the only way towards a better future for all of us.
The Beatles
There's nothing you can do that can't be done
Nothing you can sing that can't be sung
Nothing you can say, but you can learn how to play the game
It's easy
Nothing you can make that can't be made
No one you can save that can't be saved
Nothing you can do, but you can learn how to be you in time
It's easy
All you need is love, all you need is love
All you need is love, love, love is all you need
All you need is love
All you need is love, love, love is all you needs
A Canadian man Cory Fleisher he saw awful graffiti of swastikas has dedicated his life to cleaning up hateful and racist graffiti anywhere it pops up in his city−and now "Erasing Hate" has become a movement.He has power-washed thousands of hateful messages in Montreal. Initially he worked alone and now he has lots of supporters.
Irmela Schramm is another person combating hatred, she is intent on fighting hate with spray paint.She always carries a bag reading "Anti-Nazi", containing red paint, nail polish remover, and a scraper so that if she sees a swastika or hate sign, she can turn it into a big beautiful red heart instead.
Very moving stories of people who truly do make a difference and make the world a better place.
Bloggers have a good week over and out London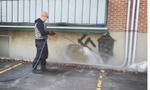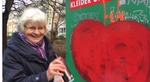 Sent from my iPad
Sent from my iPad