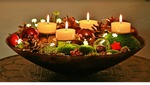 Hi bloggers
Well December is here and almost another year gone. Hasn't it gone quickly. It feels like time is speeding up, when you're a child time seems endless.
What has gone on and on in England is the Black Friday sale. The discounts started the week before Black Friday and continued a week after, Black Friday became Black weekend then cyber Monday. So it was a relief when I saw the article about giving Tuesday.
It has been organised in the UK by the Charities Aid Foundation since 2014 and encourages people to offer time, money or support to help a good cause. It started on the first Tuesday after Thanksgiving and is a movement to create an international day of charitable giving at the beginning of the Christmas season.
One example of what people do is Solomon Smith set up the Brixton Soup Kitchen to help serve people in that part of south London. He also offers employment workshops to support people in finding work. One remarkable story.
In England the daylight hours are getting shorter, the darkness is made more cheerful by the Christmas lights. Light plays an important part in lots of religions and there are many celebrations of the use of light in the winter months. In the Christian faith candles are placed on advent wreath and each week before Christmas Day a candle is lit, the light represents waiting for Jesus to bring light to the world.
The Hindus have a Festival of Lights called Diwali, people decorate their homes with clay lamps called diyas candles are placed in them to represent the victory of good over evil.
The Jewish faith has a Festival of Lights called Hanukkah, nine candles are placed in a holder and are lit to show a rededication to their faith.
Well bloggers stay warm and well. Over and out London.
Sent from my iPad