-->
Hi bloggers hope all is well with you all. Here in London we're still deluged with news about the selection of a new prime minister the choice has now come down to Boris Johnson or Jeremy Hunt. Not much of a choice in all honesty. Luckily there's Wimbledon to look forward to.
This week there were three wonderful stories in the news about giving help and hope. There is a cafe in east London called Eggs and Bread, it's remarkable because you pay what you can afford or not pay it doesn't matter. The cafe serves porridge boiled eggs toast and drinks. The customers cook and serve themselves, the customers are encouraged to sit with strangers and encourage friendships.
Another project I read about is a charity called Buses 4 homeless. A former
teacher Dan Atkins, 39, came up with the idea last year after he found a homeless man sleeping underneath a coach he was working on for a small business project. He
recruited the help of local carpenters and his former neighbour, and began contacting donors.
Since February, more than 60 volunteers have helped out and the team has raised over £30,000. The charity offers a three-month program so that homeless guests have that certainty. They are not the first people to build sleeping buses for homeless people, but the first people to build a holistic program around them. The people who stay there are offered healthcare, counselling and career advice.
Our society has become very much a throw it away one, if something is broken buy a new one. In London it is really difficult to find any repair people, however there is hope, in Edinburgh there is a Repair cafe and volunteers fix things that would otherwise be tossed away creating unnecessary waste in a planet that doesn't have infinite resources. I was very happy to read these stories and I look forward to a Repair Cafe opening near me one day.
Bloggers have a good week, take care over and out London.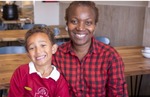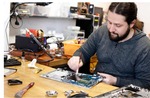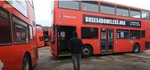 -->