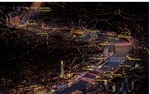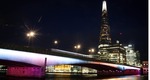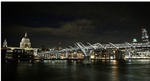 Hi bloggers well another unsettling week in England, we now have a new prime minister plus a heatwave. Yesterday London was 39 degrees hard to keep cool. However something beautiful has occurred in London. The Illuminated River phase one has opened or I suppose turned on.
A design project, commissioned by the mayor of London Sadiq Khan, to bring more colour and light to London at night. The project will run in three phases the first phase opened and three bridges have been lit up, London Bridge, Southwark Bridge and the Millennium Bridge. Each bridge has its own distinct lighting scheme. London Bridge takes on the colour of the rainbow and the Millennium Bridge is classic white. The patterns on the water are meant to evoke images of the sky.
The project will continue to light up more bridges in 2020 and completed by 2022.
As yet I've only seen photos but I look forward to going to the river soon.
Bloggers I do hope that you can keep cool hoping you have a good week. Over and out London.
Sent from my iPad