Hi bloggers well London is somewhat chaotic at the moment, helicopters hovering, lots of police on the streets. There are two reasons for this, the attack at London Bridge, which has been deemed a terrorist attack and the meeting of NATO world leaders.
The death of two young people Saskia Jones and Jack Merritt was so pointless. They were two people who wanted to bring about change and diminish hatred they were both involved in a rehabilitation program. The purpose of the project was to assist people in starting afresh after having been in prison. It is indeed a sad loss.
Some of our world leaders need to demonstrate better manners and behaviour, it rather undermines the important work of NATO.
So I needed to find some positive things to think about. The first is a news story about a London-based milkman has become something of a local hero thanks to his passion for helping others Ian Beardwell's altruistic streak means he's returned lost pets to their owners, found and returned a laptop after spotting it on the road, and even chased car thieves – all while delivering milk. For one particular act of kindness, where he helped to calm and reassure a Southfields resident and her young daughter following a burglary, the cheerful milkman won an award.
The second story is about Kenya. The people of Kiunga, Kenya, have been forced to drink, cook and bathe in contaminated, brackish water for years. In 2018, GivePower, a nonprofit organisation that provides solar energy solutions to regions that need it most, installed its first-ever solar water farm which has been providing clean water to 35,000 every single day.
So bloggers it seems to me in dark times it's essential to look for the light. Have a good week over and out London.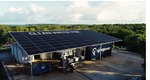 Sent from my iPad
-->