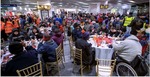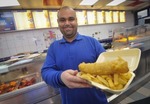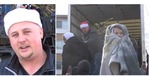 Well bloggers it's nearly Christmas, the year has gone by really quickly. The lights are on in London and the shops are full of Christmas offerings. In England the election is over we have Boris Johnson as our leader. The one bit of good news about that is at least we won't have to listen to anymore endless arguments about leave or remain in the EU. It's been three years. No doubt there will be loads more to come on the deal the U.K. makes with Europe, but for now it's over.
So Christmas is next week, a lot of people are without the money to buy gifts and there are many homeless people, but there are also many wonderful people who care for others and want to help. There have been many lovely stories about people's generosity these are a few that caught my attention.
Brothers Asef and Hamid Faqiri run The Classic Fish Bar in BIrmingham and want to do their bit for charity after seeing the homeless population rocket in recent year. They stay open on Christmas Day and offer free fish and chips or turkey dinners to anyone who might want it.
Also in Birmingham the spirit of Christmas came alive at the main railway station. The station was transformed into a dining hall and 200 homeless people were treated to a three course meal and a concert.
In the USA a man called Adam Armstrong showed up at an apartment complex's basketball court in a poor area, on Saturday afternoon with a 24-foot box truck filled with thousands of presents for children.
Armstrong said he got the idea a few weeks ago and just wanted to share some Christmas spirit.
So bloggers many people are truly filled with the true meaning of Christmas, which is to bring the message of hope and love.
Wishing you all a peaceful Christmas over and out London .