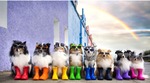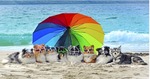 Hi bloggers it's been a grey week in London, rain, mist gloom. Added to that the very sad news about the coronavirus in China and England leaving the EU.
Colour is needed to bring some cheer. Daffodils are beginning to send their shoots up and bunches of daffodils are on sale in the supermarkets and flower stalls. They are such a cheerful flower, nodding their heads in a friendly greeting.
This is the first stanza of a poem by William Wordsworth :
I wandered lonely as a cloud
That floats on high o'er vales and hills,
When all at once I saw a crowd,
A host, of golden daffodils;
Beside the lake, beneath the trees,
Fluttering and dancing in the breeze.
I was delighted to read a news item about a woman and her dogs.
Kaylee Garrick's canine photoshoots can stop traffic in Shetland - and the fame of her very obedient dogs has now spread across the globe.
Kaylee Garrick a student paramedic has trained her pets to pose together for a range of eye-catching images. She has seven regular models. The popularity of their pictures grew through social media, and has now helped raised thousands of pounds for charity. The images feature in a fundraising calendar. Kaylee produced a charity calendar which has raised £2,000 for the The Ambulance Staff Charity. Kaylee, who works as an ambulance technician, said she also used her photos in the back of the ambulance to calm down patients. "Their blood pressure goes down and they start smiling. I would love to meet these dogs.
Bloggers I really hope that you stay safe and well. Have a good week.
Sent from my iPad