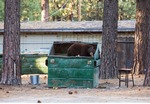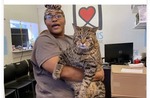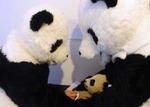 Bloggers in times that can be troubled animals, I find can always bring a bit of cheer. So with that in mind, I found some humorous animal stories.
It's not just humans who find themselves in a predicament due to loving food a bit too much! T-Shirt the bear, is known in California, as a bear who enjoys going through dustbins searching for leftovers. However T-Shirt took it to another level when he dived into a bin looking for a hearty meal. He got stuck and the police were called upon to rescue him. Apparently he remained calm throughout.
In China a Panda cub who was abandoned needed to be cared for before being returned to the wild. It was a difficult problem how could the centre look after the cub, without it getting too used to humans. The research Centre came up with an ingenious solution. The staff dressed up as panda bears to trick the cub. The process was successful.
An enormous cat called Mr B was in a rescue centre and needed to be rehomed. The centre put him on their website alongside a picture of said Mr. B, they were unprepared for how viral the big boy would go. So many people were touched by the massive cat and wanted more information about adopting him that he crashed the shelter's website. Mr B has been rehomed and apparently he's been put on a diet and he's thriving.
Well bloggers please take care it's sunny in London and the leaves are appearing and flowers are blooming, a welcome site. Over and out London.