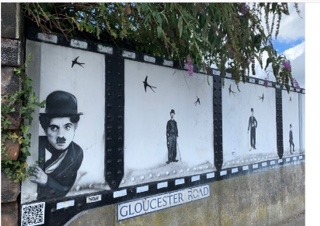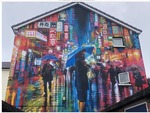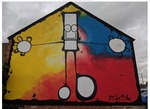 Hi bloggers hope you've had a good week. I see it's still very hot in Japan, we are in the UK experiencing a mini heatwave which allows people to enjoy time outside. This is good news for Cheltenham which put on a street art festival. Cheltenham is a town in Gloucestershire, it is a town that is famous for horse racing, the Cheltenham gold cup,so I was surprised that graffiti artists are invited to produce art on the walls all around the town.
Street art/graffiti is a form of artwork that is displayed in public on surrounding buildings, on streets, trains, and on other publicly viewed surfaces. Early instances of this art form were a type of guerrilla art, which is intended to make a personal statement about the society that the artist lived within.
The work has evolved over time from being seen as an act of vandalism to a form in which artists work brings messages, or just beauty, to an audience. One of the most famous street artists is Banksy whose work sells for millions of pounds.
The annual Cheltenham paint festival brings art work from national and international artists and it's available for everyone to see for free. The art work stays for many months brightening up the environment for one and all.
Bloggers I hope you have a good week over and out London.
Sent from my iPad