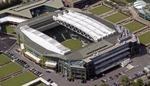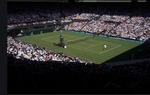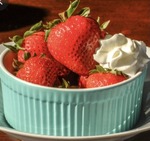 Hi bloggers hope you've had a good week. Well Wimbledon started yesterday, predictably it rained. Here's hoping the sun shines or at least the rain stops. Wimbledon is the oldest of the grand slam tournaments. In 1877 the men's singles started, with women's and mixed doubles events starting in 1884.
Apparently tennis is a British invention by Walter Clapton Wingfield, the game was originally called "sphsiristke", a Greek word meaning art of playing ball.
Winners of Wimbledon don't keep the trophy, Martina Navratilova holds the most titles she has nine. Federer holds seven titles, maybe he will make it eight this year. He is considered by many to be one of the best players in the world.
Dress code is very strict at Wimbledon players must wear white, however gradually players are wearing other colours. The tournament is the only grand slam played on grass, the grass is carefully nurtured all year and it has to be mowed to the height of 8 centimetres.
I read that more than 54,000 balls are used and 25,000 kgs of strawberries and 7,000 litres of cream are consumed. Goodness only knows how many bottles of champagne are consumed. However I did find out that strawberries have many benefits. Eating eight strawberries have more vitamin C than an orange and contain flavonoids that reduce cholesterol. So may the best players win. So that's a little bit of Wimbledon history.
Bloggers have a good week over and out London.