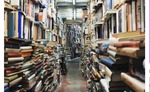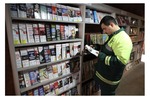 Hi bloggers I know it's really, really hot and humid and I'm sorry for that. London had a mini heatwave, however this weekend we had storms and flooding. Apparently heatwave resumes later in the week. I really hope that you get a reprieve soon.
I love reading and I am lucky to have a public library 20 minutes walk from where I live.
I heard about an amazing library in Ankara, Turkey.
It's a library organised and opened by refuse collectors. The library is comprised of books have been collected by the workers. The books were destined for landfill, the refuse workers decided they wanted to preserve history and knowledge and their motto is " one man's trash is another man's treasure". People now donate their old books. The library was initially intended to be used by the workers and their families, but then became available to the public.
The workers found a derelict factory and transformed it into a library, and as a space where the community can get. The workers then went onto convert a rubbish truck into a mobile library and they take books to schools. What a remarkable group of people.
The oldest library in the world is said to have been in Nineveh Assyria dated 630 B. C.
I think one of the most unusual libraries I've heard of is the Osmotheque library in France. It is a library for perfumes. It houses 3,200 different scents. Goodness me I'd love to visit it.
Bloggers please take care stay hydrated, over and out London.
Sent from my iPad