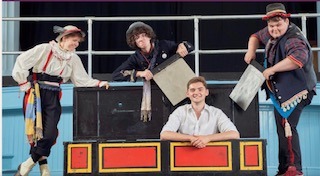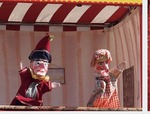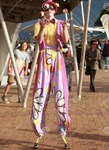 IHi bloggers hope all is well with you. I'm really delighted that the Paralympic Games are about to commence. I really enjoyed many of the events at the Olympic Games last month and it will be great to have some more sport to enjoy.
My attention was caught by an article relating to English seaside resorts. The Arts Council of Great Britain decided to train some young people in classic seaside entertaining skills; juggling, stilts, Punch and Judy, slapstick and magic shows. All these forms of entertainment were part of the English holiday experience. However as foreign travel became more popular and affordable less people holidayed in England and the decline of many coastal resorts, led to the loss of seaside entertainers. The Arts council wanted to prevent these skills being lost, it also wanted to bring fun back the visitors and ensure that outside entertainment was kept alive. Cultural heritage is very important, the entertainment was performed originally by Pierrot groups dating back to Victorian times.
I'm particularly delighted that the Punch and Judy show is being revived, as a child I watched performances and loved it. The latest versions will be more politically correct no beating of children or wives, but I'm sure they will be fun and well appreciated. The Punch and Judy shows although thought to be English originated in Italy. The puppet show takes place in a portable booth so it's easy for the puppeteer to take their show from place to place. So I look forward to attending a show and booing and cheering and hopefully having a bit of fun.
Bloggers I really hope that you have a good week, take care over and out London.