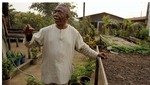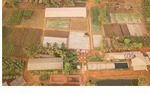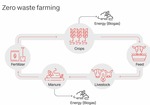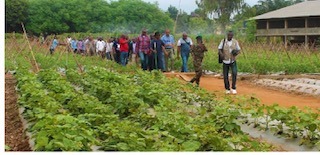 Hi bloggers happy Halloween, it's interesting how the UK has seemed to take on this American tradition of trick or treat. When I was young it wasn't celebrated at all, now there are pumpkins in all the shops and outfits, lots of people hold parties. This weekend the clocks went back so the nights will be drawing in. I'm not a lover of dark evenings, not so bad if it's been a sunny day. The COP 20 begins in Glasgow let's see what will happen.
In Africa a man called Father Godfrey Nzamujo has created a zero waste agricultural system, which enables people to feed themselves and creates employment. Father Godfrey started his method of farming thirty five years ago, he had one acre of land and some seeds. His aim was to rid the continent of Africa of famine. He had been dismayed by the devastating famine in Biafra, he was a priest and he also had a degree in microbiology from Harvard university. He knew Africa was capable of producing food, however the farming practices in place were not sustainable.
He devised a zero waste agricultural system that would produce organic food, increase food diversity, support the environment and create work.
He started his sustainable farm called Songhai in Benin, his farm copied natural ecosystems. The output from one area for example, animal waste would become fertiliser for crops. He said the idea was ancient but had stopped as developing countries moved onto synthetic fertiliser. His idea began on a small scale but his farm now employs more than 300 people.
Father Godfrey believes it's success is based on his knowledge and spiritual roots. Songhai also offers teaching programs and people come from different parts of the world to learn. The Songhai method of farming has been adopted in different African countries. In a world that has millions of hungry people what a wonderful solution.
Research by UN scientists believe this model of farming is capable of producing as much food as conventional farming.
Bloggers have a good week keep warm over and out London
Sent from my iPad