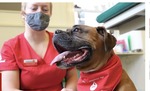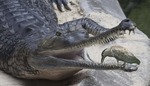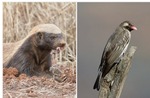 Well it's nearly the end of 2021 and the new year is nearly with us. Here's hoping that it will be a good one for all of us. I do hope that you are all keeping safe as I've seen that there have been heavy snowfalls in Japan.
I was fascinated to see an article about the brave dogs that donate their blood for the benefit of other dogs who need it. I had no idea that their were blood banks for dogs that are run along the same lines as a human blood bank. The dog blood bank is for used for service dogs if they need it.
Some animal species have found ways to work together and they help each other find food shelter and protection from other animal predators. Zebras and ostriches are both prey for faster animals, they both therefore have to maintain heightened awareness of danger. Zebras have excellent eyesight but a poor sense of smell and the reverse is true for ostriches so together they work together to protect each other.
Egyptian crocodiles work together in a very different way. The plover finds food by pecking between the crocodiles teeth, this benefits both species. The plover gets a good feed and the crocodiles get a good clean which keeps them healthy.
Honey badgers and a bird called honeyguides as the name suggests have a love for honey. The birds lead the way to the honey hives and the badgers break them open thus both enjoy a good feed. I was delighted to think about all the different species working in conjunction with each other. The wonder of the natural world.
Bloggers wishing you good health and happiness in 2022 over and out London.
Sent from my iPad