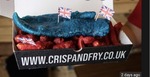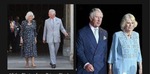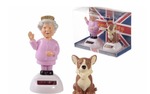 I hope all is well with you all. London, in fact all the Uk is getting ready for the Queens Platinum Jubilee celebrations. There will be lots happening between 2nd to 4th June. There will be the Trooping of the colours a Pageant and a Platinum party these will take place in London. There will also be lots of community events namely a street parties.
Many streets have already been adorned with Union Jack flags and bunting.
The queen began her reign 2nd June 1953, a long reign and the Queen is undoubtedly loved by many people.
There are some strange things being done, an example being the red, white and blue fish and chips. I for one will not be indulging in them. There are also an enormous amount of tatty souvenirs on sale. The dancing queen and corgi are an example of this.
I was really surprised to hear that,Prince Charles and Camilla will make a guest appearance, on a soap opera called Eastenders, at a street party. Goodness only knows what that will be like.
However not every one is happy about the celebrations. The government is spending 28 million pounds of taxpayers money. Also local councils are spending more money. There's a big to do in Derbyshire who decided to spend 200,000 pounds of council tax money for events. Many residents both royalists and non royalists are very disgruntled by this large amount. They believe that it is insensitive to the many people who are suffering hardship.
Well whatever our views I'm sure many people will enjoy. I for one am looking forward to the flyby. I also think that whatever is put on will be very grand. Let's hope the weather is better, as I type we have a massive downpour, thunder and lightning.
So bloggers have a good week over and out London.
Sent from my iPad