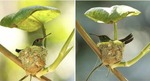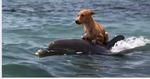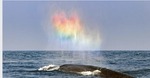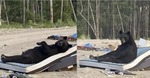 I do hope that you are all doing ok. I know that you've had very very high humidity, it's so difficult to cope with, here in London although cooler it's odd because we have had 76% humidity. I know that you've had 100% it must be unbearable.
So time for a little distraction where to go ANIMALS .
I absolutely love this photo of the hummingbird birds home with a roof. Hummingbird birds are so tiny, it's amazing how they can construct such beautiful nests for their young. This photo was taken in a rain forest. Its unusual because hummingbirds don't usually make homes with rooves. What an ingenious mother bird. It's my opinion that's a truly beautiful photo .
Another amazing photo of a blue whale blowing a heart. It was a fortunate moment when a photographer was able to capture the magnificent animal blowing a rainbow heart. It was a matter of timing, droplets and sunlight created this fabulous picture.
It's all about timing and I think my personal favourite is the brown bear in Canada relaxing.
A mattress had been dumped, and a brown bear who was having a wonder decided to have a bit of relax. He looks comfortable don't you think.
Dolphins and dogs two of my absolutely favourites. So a dog was in a canal in USA stranded unable to get out. Dolphins surrounded it and started making a noise. The noise attracted attention from people who called the fire brigade. The dolphins escorted the dog along the canal until the dog was rescued. Hurrah for dolphins.
Take care over and out London
Sent from my iPad