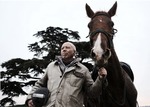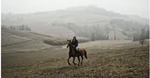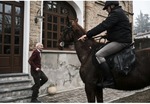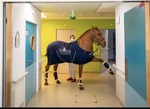 I do hope all is well with you, I've seen that it's not so humid for you. I do hope that is the case. Here in London the leaves are dropping, an early autumn due to drought. Drought or floods seem to be the state our planet is in.
So I have an uplifting, in my opinion, news item. A doctor Roberto Afonso based in a rural are of Piedmont, visits his patients on horseback. The area is famous for wine and hazelnuts. Roberto's patients are in general older people. He travels on his horse called Ambra, he prefers this to any other type of transport, especially for non urgent visits. He travels 80-100 kilometres a week in all seasons. Roberto loves the views and exercise.
Initially he'd wanted to be a footballer, however at 14 he developed asthma and took up horse riding.
Roberto believes that his horse has a positive impact on his patients, a conversation point and makes the doctor patient relationships more personable. Some of his patients enjoy petting the horse. I would love to witness a doctor on horseback.
In a hospice in Calais doctor Peyo takes his horse into hospital to visit patients. The horse brings comfort to the patients and family. The horse intuitively seems to know which patient will benefit by a visit. He stops outside the rooms he wants to enter or he raises his hoof. Wonderful animals and people.
Bloggers have a good week over and out London.
Sent from my iPad