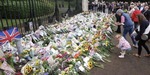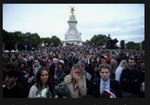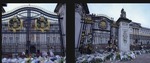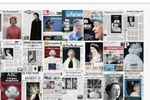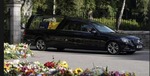 I hope that you are all well. As you can imagine here in London we're absolutely surrounded by images of the Queen, our new King and their families. The family are very busy going to Scotland, Ireland and Wales. They are constantly on public display I wonder when they can have time for personal mourning.
The crowds are gathering in London in preparation for her return to lie in state. London is expected to be full, I'm not sure what they mean but there's estimated to be more than a million people coming. Everyday the front of newspapers have pictures of The Royals, TV, all channels are dominated by people remembering. Tell you the truth it can get to be a bit too much.
I went to the Palace on Saturday to place some flowers for a friend of mine, who is too frail to go. I had not imagined how many people would be there. I actually couldn't get near the Palace and I left my friends flowers in the park. Thousands and thousands of bunches of flowers have been left, they are gathered up every night and taken to one of the Royal Parks nearby. Apparently besides flowers, hundreds of Paddington bears have been left plus tons of marmalade sandwiches. There's been a request for people to stop bringing them.
Well bloggers certainly an interesting time in British history.
Have a good week over and out London.

Sent from my iPad