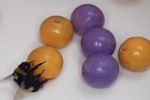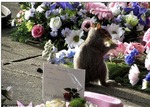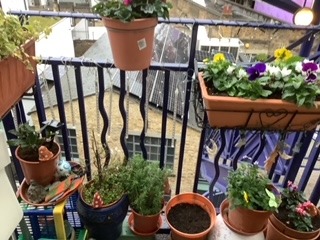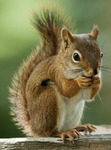 Hello from a gloomy wet London, however it was really unseasonably warm yesterday London was 20 degrees, apparently the temperature is set to plummet. The photo of plants is a picture of my balcony, in the summer I plant bee and butterfly friendly flowers. We don't have many animal species visiting this part of London, as it's very built up. There are a wide range of insects and some birds and one very cheeky visitor a squirrel. Many people think squirrels are cute, I like them in the park but not at my window. In the summer I had some really pretty sweet smelling carnations, the flowers kept disappearing. I found out why! The squirrel, apparently they are addicted to the sweetness of the flowers. I read an article about an a funeral parlour telling mourners not to send carnations to the funeral, as the squirrels caused so much damage to the bouquets.
The plants went and the squirrel disappeared for a couple of months, however they have returned. I realise they are digging in my plant pots for bulbs. I don't know if they eat them or think they are something else, I am now on clapping duty. When I see the cheeky chap I clap like mad and it disappears. I'll keep you posted.
I read a sweet article about bees. Bees usually are associated with working hard to make honey, but they also enjoy playing with balls like humans and dogs. Uk scientists studied bees interacting with inanimate objects as a form of play, evidence that the bees mind is more complex then previously thought. I'm wondering if I should get some toys for the bees that visit me.
I wish you a happy Halloween, take care over and out London.
Sent from my iPad