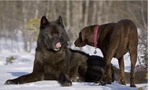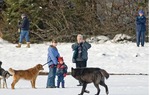 I would like to start by wishing you all a very HAPPY, HEALTHY PEACEFUL New Year. Well here we are in a very wet London awaiting the time for the next celebration. It's very cold where you are I do hope that you're keeping warm.
I was delighted when I read this story from America about a wolf man and a dog , friendships can be formed in many ways. Wolves are noble animals they have bad reputations, but they need to be treated with respect. Nick Jans a wildlife photographer was enjoying his view from his window with his dog. He had a bit of a surprise when he saw a large black wolf near his home. Initially he was worried that the wolf might harm his dog or other people. Dakota, Nicks dog ran off before he could restrain her, perhaps to defend her territory or to play. Fortunately they played, Nick named the dog Romeo who became a regular visitor. Romeo became more confident and had a wander to the local park and made other canine friends.
People in the park were at first fearful as he was huge and therefore intimidating. Friendships were formed with other dogs and people enjoyed meeting Romeo. Romeo then started to want to please people and he'd bring them a toy from a stash of things he'd found. Although not a dog he was displaying some of the behaviours of domestic animals, like fetching balls.
Wolves live in packs, one theory about Romeos unusual behaviour patterns was that he'd become separated from his pack and he wanted company. Honestly I'd love to meet Romeo. We do have lots of dogs near me but none as majestic as a wolf.
Keep well and again happy new year to you all over and out London.

Sent from my iPad