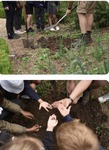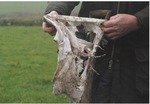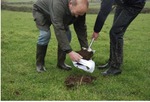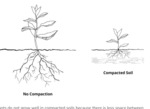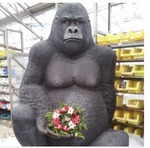 I hope that you are all well. I thought I'd give you a Sydney the squirrel update. He's returned, I had some carnations in my kitchen, Sydney loves carnations. I came into the kitchen and there he was at the window, licking his lips. Fortunately the window was shut. I have removed the carnations.
It's planting time for many flowers and vegetables, however the Country Trust have asked the citizens in the UK to plant a pair of cotton pants!! The Trust is seeking to to discover the health of the soil in the UK. They want to learn how we can protect our soil for the future.
Soil has many superpowers and without it life as we know it wouldn't exist. Soil provides food for plants and growth. It helps purify water. It provides flood and drought protection. It helps regulate the climate. For soil to be considered healthy and alive it needs at least 3-6% organic matter content. Apparently 75% of European soil is dead. However this can be changes by feeding soil with organic matter fertiliser etc.
To find out the quality of the soil cotton pants need to be planted and then leave them there for eight weeks. When the pants are dug up the more disintegrated the pants are the healthier the soil. It means organisms have been eating the cotton. The country Trust will then assist people in finding out what their soil needs to improve. Children are being encouraged to get involved. Great fun.
Another garden related story is about Gary an eight foot fibre glass gorilla who was stolen from outside the garden centre. Gary was very popular with the customers . The owner of the centre Andrew Scott has displayed a very good sense of humour in a statement that he has released with regards to the theft. We don't know who you are(the thieves), but we don't have any money for a ransom we do have a lot of bananas. If you let our Gary go that'll be the end of it. We will not look for you.
Bloggers have a good week over and out London.

Sent from my iPad