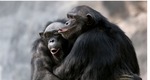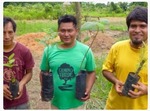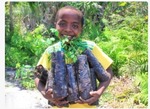 Hi bloggers well it's Christmas Day and I wanted to wish you all a very happy day and as we are heading towards a new year I hope all the preparations you have to do can be done with ease.
Well I wanted to end on a cheerful note and I was delighted by the news that came from Japan this morning. A study carried out by Kyoto university shows that chimpanzees like to clap their hands and stamp their feet and sway in time to music. It is hoped that a greater understanding of the predisposition of these great apes to music could shed light on how humans came to appreciate melodies.
Currently in Australia there are enormous fires burning, so I was delighted to find out that there are a huge number of projects that aim to plant more trees and create a safer environment. Two caught my attention.
One project is called Camino Verde in the Peruvian Amazon. Their mission is to plant trees creating sustainable ways of life to protect the rights of indigenous people.
The Eden project in Madagascar is a restoration program. There had been large scale loss of mangroves and upland forests. Since the inception of the project over 16 million mangrove and trees have been planted.
So here's hoping all these projects have huge successes and help heal our Mother Earth.
Merry Christmas one and all.
Sent from my iPad