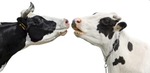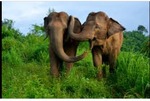 Hi bloggers well this weekend is a very busy one for Chinese people it is Chinese New Year and it also Burns night is on Friday 24, so a lot of celebrating for some people. I will forego the dinner traditional for Burns night of haggis.
But I will have a Chinese meal, most of the big supermarkets do a special deal.
In the news this week there was an interesting article about cows.
Cows have been found to regularly talk to each other about food and the weather in their own language, according to a new study. Research conducted by a PHD candidate from the university of Sydney discovered that each cow has its own individual moo and can change its pitch depending on how they are feeling. They found that cows can also depict signs of excitement, arousal, engagement and distress using their tone of voice − much like humans. Other animals have sophisticated communication systems.
Elephants engage in long distance communication. Scientists discovered that elephants could communicate to each other, even though many miles apart, by using very low frequency sound waves. A female elephant will let males know that she's ready for mating. She also informs the herd when she is ready to give birth.
It's fascinating isn't it, in the 1960's, there was a film called Doctor Doolittle the doctor could talk to and understand animals. What fun that would be.
Bloggers happy Chinese New Year. Hoping you have a peaceful week and can keep warm. Over and out London.
Sent from my iPad