-->
-->
-->
Hi bloggers, hope you are surviving the cold of winter. I know that you've had a really really freezing spell I do hope that changes and it gets warmer for you. In England we're waiting for a storm news flashes etc but I just tell people it's nothing compared to last Octobers typhoon in Japan. As all the news is doom and gloom currently I've been focusing on looking at flowers. They bring so much pleasure, there are little bursts of crocuses sprouting, daffodils and even early blossom. I came upon an article about a mother who commentates her daughters' death by placing a bunch of flowers, where she was knocked down, every year on the anniversary.
Since 1996 a mother leaves a floral tribute to her daughter who was run over and died. For years Perter Fernley had driven past the floral display, he wrote a poem in 2018 and put it on line hoping that the person placing the flowers would hear it. This year, he attached a laminated card of his verse to the railings he always felt very touched by the flowers. Ms Green found his work and she was really pleased that someone had gone to so much effort to write a song. They were put in touch through social media.
This is part of the poem.
"I've seen this act of sweet remembrance for over twenty years
Flowers on the railings full of tenderness and tears
All the colours of the rainbow wrapped up in a pretty bow
The flowers on the railings for a love that won't let go"
It got me thinking about the national flowers of different countries.
The national flower of England is the rose. The Tudor rose was adopted by Henry VII as England's emblem of peace at the end of the War of the Roses – the civil wars of 1455-1485 between the royal house of Lancashire, whose emblem was a red rose, and the royal house of York, whose emblem was a white rose. The Tudor rose came to symbolise peace between the houses because it was a mix of both.
From China, the chrysanthemum made its way over to Japan by Buddhist monks in AD 400. Soon after its introduction, the Japanese were so enamored by this beautiful flower that it was soon adopted as the emperor's crest and official seal. "Kiku" is the Japanese name for chrysanthemum and every year there is a National Chrysanthemum Day which is also referred to as the Festival of Happiness. I read that the cherry blossom is also considered to be the national flower of Japan. However both are beautiful.
Bloggers I really wish you a healthy peaceful week over and out London.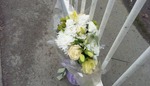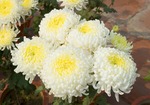 -->