Hi bloggers hope all is well with you all. Hope that you are managing to keep warm. England had a big storm last weekend and it appears that another one, storm Dennis is on the way. The poor flowers are really taking a hammering, there's a lot of flooding and it seems it's always the same areas that are affected. It is at difficult times that building a community is important. In England it is said that, January and February, are often the months when people experience the most severe bouts of loneliness. Our government has in fact appointed a minister to look into loneliness. However governments propose grand schemes, but its groups of volunteers who usually get things off the ground.
The Chatty Café Scheme has been set up to reduce loneliness and to get people talking. Many people experience loneliness but don't talk about it as It's a stigmatised subject. The chatty cafe society is trying to influence UK café culture by encouraging venues to designate a Chatter and Natter table, which is where customers can sit if they are happy to talk to other customers. This offers a way for people to get to know each other, have a chat without any pressure.
People are said to experience more loneliness when they live in a big city.
London is Lonely is an exhibition composed of 10 photographs and audio stories of loneliness in London, all of which represent people who live, work or spend time in the capital. London is Lonely highlights the magnitude of loneliness while demonstrating that this is a shared issue, and therefore we can all be part of the solutions. The exhibition invites visitors to think about their role and how we can all help build a more connected world. I think that these ideas are really inspiring.
Bloggers wishing you a safe week hoping that you stay warm and well. Over and out London.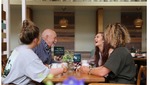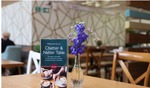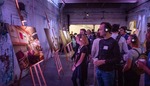 Sent from my iPad