Hi bloggers hope that you've had a good week. I know it's been really hot in Japan, in England it's been hot too. Definitely the time to eat ice cream. I discovered that Sunday 19th July was international Ice cream Day it was started by President Ronald Reagan in 1984.

Ice creams are very popular amongst all age groups and it has a long history globally. But before we had milk based ice creams in the world, ice creams were introduced in the 10th century and were made of pure ice. Way before during the 5th century in ancient Greece; people ate ice mixed with honey and fruits. Alexander the great enjoyed snow flavoured with honey and nectar!
In 200 BC a frozen mix of milk and rice was introduced in China and had as ice creams. In Asia it was in the sixteenth century that the Mughal Emperors used to run their horses to bring fruit sorbets from Delhi. Until the 1800's ice cream remained a delicacy enjoyed only by the rich.
The production of ice cream from dairy products began in 1851 in Boston, United States. America produced ice creams to send it to their troops during the World War II. So ice cream is a treat enjoyed all over the world.
I found this easy recipe to make it doesn't require a machine, to the need to keep mixing it. You can adapt recipe to make other flavours.
FREEZE TIME: 12 hours
150g (5oz) raisins
50ml (2fl oz) dark rum
300ml (10fl oz) pouring double cream
1 x 397g tin of full-fat condensed milk
you will need a 1-litre (1¾-pint) freezer-proof container or 8 ramekins (see note)
1. Place the raisins in a saucepan. Add the rum and gently heat until just boiling. Spoon into a bowl, then cover and leave to soak overnight until all the raisins are plump and the rum has been absorbed (see recipe introduction). Pour the cream into a large bowl and whisk into soft peaks using an electric hand whisk. Carefully fold in the condensed milk, then the raisins and any excess rum and mix well.
2. Spoon into the freezer-proof container or ramekins and freeze for a minimum of 12 hours or overnight.
Bloggers have a good week over and out London.
I scream…you scream…we all scream for Ice Cream!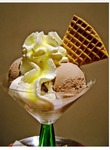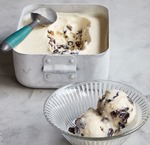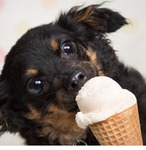 -->