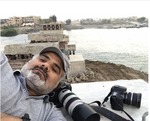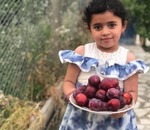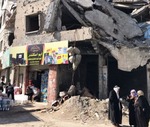 Hi bloggers I hope that you have had a good week and it's not so humid as it has been for you. London is cooler and fortunately we had some rain at the weekend, as the trees have been shedding their leaves to reduce the amount of water they need. I was listening to a documentary on the radio about a photographer, his name is Abood Hamam. I had never heard of him, but it was really interesting.
Abood is from Syria, he initially was the photographer to the president and his wife, then he took photographs during the war. He managed to get his photos out of the country without his identity being revealed.
It took an enormous amount of courage to get the photos out of the country it was extremely dangerous, but he wanted to bring the truth to the world about the events in Syria.
He was the son of a farmer and he lived in the town Rama, his brother gave him a camera and his career path was set. During the war he took photos of the devastation and destruction of Syria.
He returned to the city he loved Raqqa and he was desperately sad about the destruction. Then he developed a new mission, to encourage people to return, slowly his pictures became more colourful, yellow and red signs showing shops had opened.
He puts his photos on a Facebook page and people are slowly returning to rebuild their cities. I think he's a remarkable man.
Bloggers I hope that you have a good week over and out London.
Sent from my iPad