Hi bloggers I know it's extremely hot and humid for you I hope that you are managing to keep well and hydrated. London is cooler, we have had torrential rain and storms, but much needed as the trees were shedding their leaves and the grass everywhere was completely brown. Recently I have been visiting the small squares in central London, I did some research and there are numerous gardens that are hidden. I shall make a point of visiting some of them.
One I have been to it's really beautiful is The Chelsea Physics Garden. The Garden is located behind walls and positioned close to the River Thames. In 1673 the Society of Apothecaries chose their Chelsea village site for its proximity to the river to make the most of its warm air currents. It gave them a base to moor their barge, allowing them to conduct plant finding expeditions in surrounding areas and to teach their apprentices to identify plants, those that might cure and those that might kill. The River access allowed plants arriving from around the world to be introduced to the British Isles. It really is a beautiful place.
The Barbican centre, a performing arts centre, located in the City of London is home to a magnificent Conservatory. It houses more than 1,500 species of plants and trees and ponds which are home to Koi and carp. Which I will definitely visit if I'm nearby.
I read a really lovely story about a stray abandoned dog in Brazil. The manager of a Hyundai outlet began feeding the dog. The dog kept returning and one the hearts of the people who worked there. They decided to adopt the dog called him Tuscan and gave him a job. He is now in charge of meeting and greeting prospective clients. He looks so proud sitting at his desk. I bet sales have gone up.
Bloggers please take care in the heat, over and out London.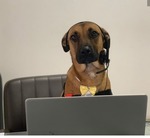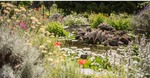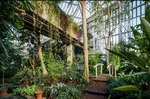 -->