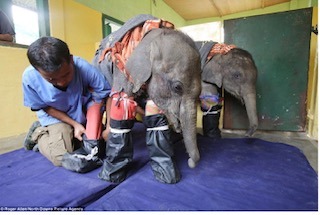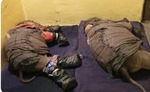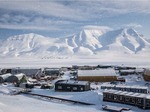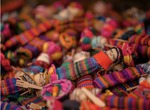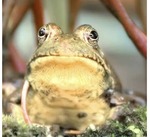 Hope all is well with you. Here in London we are back to rain, rain and yet more rain. I need to invest in an umbrella, that doesn't blow inside out rendering it useless. I am pleased to tell you that inspite of all the rain I'm beginning to see the tiniest shoots of spring appearing.
I read an inspiring article about an amazing vet from India. The vet Panjit Basumatary works for the International Fund of Welfare for Animals. Two baby elephants Rupa and Asahi eleven months had become separated from their mothers, and they were being reared at the centre. They had a problem sleeping as they missed the comfort of their mothers, subsequently they were exhausted. Panjit created sleeping suits that were heavy and on their bodies, kept them warm and provided a sense of security. They are both being rehabilitated at the centre and will return to the wild. Don't they look cosy.
I also discovered that there are some animals that appear not to sleep. The bullfrog being one of them. Zoologist studied the behaviour of the bullfrog and they discovered they were always alert and reacted to stimuli. As the zoologists can not study their brain activity they might have another way of resting.
Globally there are many different ways of parents putting their children to bed. In Guatemala children are given worry dolls. In Norway and Sweden children are encouraged to sleep outside in the winter to keep them healthy. Certainly not for me I like to go to bed with a hot water bottle.
So bloggers I wish you a good week over and out London.
Sent from my iPad