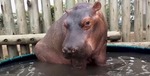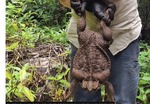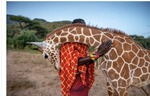 I do hope that somehow you are managing to keep warm, it feels cold here in London, however I've seen the really freezing temperatures you have. Layers of clothing, hot drinks and stews to help warm up your insides.
I've seen some joyful animal stories that I hope will bring us all some cheer. In Kenya there's a remarkable man called Lekupania, he's an animal whisperer, the most respected and successful one. He's helped rehabilitate many animals back into the wild, ranging from wart hogs to zebras. He's working as an animal keeper in a conservation park. One of the animals he rescued was a giraffe. He rescued the giraffe called Fupi from a ditch he fell in.
He helped Fupi to get better and to return to the wild. Every day Fupi comes to visit Lekupania with all the other rescued giraffes. Fupi embraces him and then goes on his way. What a wonder man Lekupania is. In my opinion he should feature in our news bulletins.
A cute little hippo Charlie, was rescued after he was abandoned, he was taken to live with some rescued rhinos, as there were no other hippos in the area. Charlie behaved like the rhinos and didn't like going into water. This was very detrimental to his health as hippos need to spend long parts of the day in water. Consequently his skin kept getting burnt. Fortunately the keepers found another hippo, and travelled hundreds of miles to collect Moomin the hippo to assist in Charlie's rehabilitation. Charlie and Moomin hit it off and Charlie quickly learnt hippo behaviour and he's now happy to spend time in the water. His journey back to the wild can begin. Charlie is cute isn't he?
In another part of the world Australia, an amazing discovery was made, a cane toad enormous in size. He was nicknamed Toadzilla he's going to be entered into the Guinness book of records. Not such a cutie.
Take care bloggers, keep warm over and out London.
Sent from my iPad