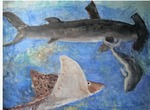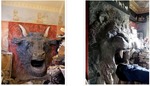 Hi hope all is well and you are keeping warm, inspite of the fact that it's Spring, Winter is still with us, definitely soup weather. I read an amazing story about what's behind a door. It is indeed very surprising what is behind a door sometimes good or not so inviting. The door in focus here is Ron's door. It is in Birkenhead Liverpool. It's indeed an amazing place because of Ron's dedication to art. He was obsessed with early Greek, Egyptian and Roman art, and this led him to single handedly transform his flat into a classical villa. Ron rented his flat and although the totem pole outside his front door had intrigued people they were totally unaware of the art inside .
After his death his family went inside and were amazed, Ron had decorated every available space and surface. The family knew they wanted to preserve his legacy, but it was a rented flat and the owners were putting the block on the market.
The family decided they wanted to turn it into a cultural asset for the local community, they needed money lots of it. They set up a crowdfunding page and many people contributed. There was one day left to get the money, and after being on the radio the family received £300,000. They are now going to restore the art works and open the house to the public and run art classes for the community. Isn't that fantastic.
I love this photo of the kingfisher it took six years and 720,000 shots. Certainly shows dedication.
Bloggers keep warm and have a good week over and out from London
Sent from my iPad