Hi bloggers hope you're not too cold. It's been non stop rain in the U.K. There are many areas affected by flood water. Definitely need your umbrella here. Fortunately I read an article that was quite amazing, how recycled mattresses can be recycled to be the basis for growing plants.
Old and discarded mattresses are being used to replace soil in order to grow herbs and vegetables for refugees in desert environments.
A team of experts in hydroponics from the University of Sheffield have been working with refugees in Jordan to create 'desert gardens' using foam from mattresses.
At the Zaatari refugee camp the research team, led by Professor Tony Ryan, have worked with residents to grow peppers, tomatoes, aubergines and mint.
The mattress foam is used to hold the roots of a plant in place as it grows in in a nutrient rich water solution. Seeds are placed in the foam and they grow through it.
The team have used mattresses destined for landfill that were left behind by aid workers after they leave the refugee camps. Researchers worked with the refugees at the camp as many of them were experienced farmers. The team say they learnt from each other.
'The refugees we have worked with have taken our training and made the project their own, growing things we never thought would be possible in the desert environment using recycled materials,' said Professor Ryan. They have created a 'desert garden' at the camp in Jordan but want to make the project more sustainable and roll it out worldwide.
They hope to raise £250,000 to supply seeds, nutrients and training for another 3,000 refugees. Nearly 1,000 have been taught so far.
It would give families displaced by war the opportunity to have an unlimited supply of fresh produce - in some of the harshest places on the planet. This project gives people with hope for the future and the opportunity to provide families with fresh food.
To encourage awareness about recycling in Warsaw Poland, a light installation has been created. Coloured plastic bags that can be recycled have been used to make an innovative work of art. It is hoped that it will focus attention on the need to recycle. It is an important issue and using art to inspire people is a wonderful idea.
Bloggers have a good week over and out London.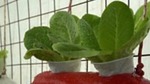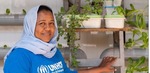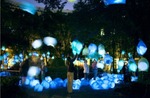 -->